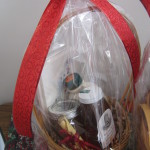 Basket Raffle Support the library and you could win a basket of goodies donated by local businesses. Click here for details.  Tickets for sale from 11/21-12/12 at 1 p.m. Each ticket is $1 or 6 for $5.
View full post
"November 2nd Social Security was reformed and your ability to utilize little known filing strategies to obtain additional money has been limited.  There is a window of opportunity to still qualify for options that have been eliminated and it's imperative you know about hem now." says Brandon Archibald. Brandon Archibald is offering a free information …
View full post
Priscilla Bodwell has her art work on display for the month of November. Visit the Library to see her beautiful watercolors in the entrance.
View full post
Sanbornton Public Library presents The Victorians: a Morbid Taste for Mourning on Tuesday October 27th at 7pm. A spirited show-and-tell with period attired historians, Linda Salatiello and Evelyn Auger. This lively reenactment will show the significance and symbolism of mourning dress, prints, jewelry, correspondence and burial practice and how some of these rituals are still with us today.
Linda Salatiello and Evelyn Auger have performed this program across New Hampshire. They are historians with a passion for historical costuming and share a talent for storytelling, reenacting a somber event with humor and wit. The presentation will be about 45 minutes with refreshments to follow.
The program is free and open to the public. The library is handicap accessible and located at 27 Meetinghouse Hill Road, just off Route 132. Call 286-8288 for information.
Tuesday, October 27th at 7 p.m. Light refreshments will be served.