Superhero Training was an awesome kick-off to our summer reading program.  Jungle Jim led young patrons through the rigors of being a true superhero! Volunteers from the audience are shown here. The show progressed to talk about the heroes in our daily lives. Lastly, Jim led the audience through the idea that they can be heroes themselves!
Funding for this Kids, Books, and the Arts event is provided by the Jack and Dorothy Bryne Foundation, CHILIS, Cogswell Benevolent Trust, and is supported in part by a grant from the NH State Council on the Arts & the National Endowment for the Arts as well as funds administered by the NH State Library and provided by the Institute of Museum and Library Services.
This program is free and open to the public. Children are encouraged to participate in the summer reading incentive program. The Library has many new books including graphic novels, Great Stone Face, Isinglass Teen Read Awards, and Ladybug Award books. Reading over the summer months reinforces what students have learned, develops new interests, and helps make them ready to learn on day one of the new school year. Every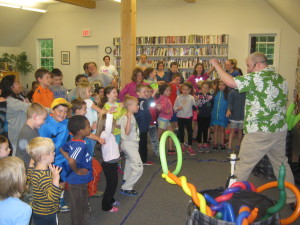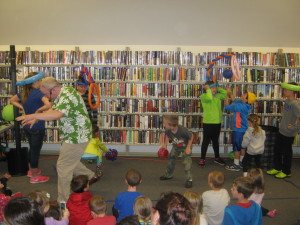 child has the potential to be a hero.