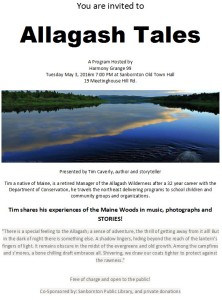 Allagash Tales, a program hosted by the Harmony Grange.
Tuesday, May 3rd at 7pm at the Old Town Hall.
Presented by Tim Caverly, author and storyteller.
Tim has a 32 year career as the Manager of the Allagash Wilderness with the Maine Department of Conservation. Come hear him share his experience of the Maine woods in music, photographs and stories!
The program and free and open to the public.