Belknap County Master Gardener Karen Ober's got some great information about one of the simplest and most efficient ways of keeping a garden.
Please join us next TUESDAY, MAY 28, 6 PM to 7:30 PM.
And of course, the Library has some fantastic resources on gardening, including one of the all-time classics on raised bed gardening: Mel Bartholomew's All New Square Foot Gardening. Browse the Dewey number for gardening is 635, so get busy BROWSING!
Sanbornton's Community Garden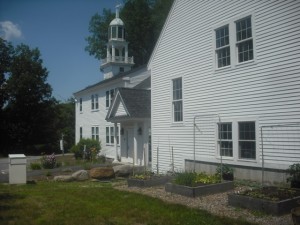 • Next to the Library.
• Planned and maintained by volunteers.
• Produce donated to shut-ins & needy families.
• And a great example of raised bed gardening!