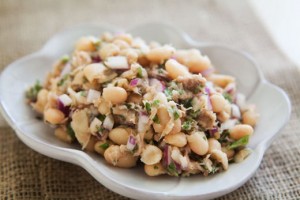 Over the years we've received a many a compliment about the yummy White Bean Salad sandwiches we sell during the Library's Election Day bake sales. (Thank you, Emily Vinton!)
Here for your enjoyment is the quick-and-easy recipe, courtesy of the September 2002 Vegetarian Times issue.
White Bean Salad
SERVES 4
This quick-and-simple recipe replaces tuna fish or chicken salad in sandwiches or on salad plates. Add one jalapeño, stemmed, seeded and diced, if your children like it spicy. Chickpeas can be substituted for white beans.
1 ½ to 2 cups cannellini or other white beans, rinsed and drained
½ cup celery, finely chopped
2 Tbs onion, finely diced
2 to 3 Tbs. minced sweet pickles
1 clove garlic, pressed
2 Tbs. mayonnaise
½ tsp. Dijon-style mustard
¼ tsp. Hungarian paprika
¼ to ½ tsp. salt
Freshly ground black pepper to taste
1 Tbs. fresh minced parsley
Place beans in bowl, mashing half with fork. Add remaining ingredients and stir to combine. Blend well and refrigerate for at least 30 minutes before serving. Taste for seasoning before serving.