A long-time dear friend of the Library passed away recently. The following obituary was recently published in a variety of locations.
Barbara S. Powers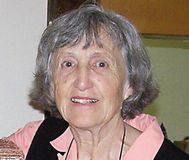 DIVIDE, Colo. — Barbara Smith Powers, formerly of Sanbornton and Kensington, N.H., died peacefully Thursday, June 6, 2013, in Divide.
She was born in Boston and lived in Humarock Beach, Mass.
She was a graduate of Sanborn Seminary, Kingston, N.H., and studied home economics at Essex Agricultural School and Vermont Junior College.
While working at the University of New Hampshire she met her husband, William Powers. They lived in Sanbornton, raising three children while participating in, and leading, many community organizations, town committees, the Fire Department Auxiliary, PTA, church, Historical Society and Grange.
Mrs. Powers was a much-loved Sanbornton librarian until her husband's retirement, when they moved to Kensington. She worked first in the Exeter Public Library, then at the Kensington Library.
She enjoyed Audubon outings, beach walks, community and church activities, and the Piscataqua Pioneers. She was active in Girl Scouts and 4-H.
Born by the sea, she always loved the smells, sights and sensations of the ocean and trips to the Isles of Shoals. She loved libraries, nature, history, laughing with friends and her daily walks.
A frugal Yankee who lived through the depression, in her later years she was enthusiastic and appreciative of being able to afford more frequent outings to restaurants, especially for an ice cream cone or a good lobster roll.
The widow of William Powers, she is survived by three children and their spouses, Nancy and Eric Moen of Neola, Iowa, Glen and Pam Powers of Divide, and Melissa Powers of Mont Vernon, N.H.; five grandchildren, Torrey, Carly, Jenna, Sarah and Xavier; two great-grandchildren, Kingston and Maya; two sisters, Phoebe Jackson of Virginia and Nathalie Potts of Hampton, N.H.; and several nieces and nephews.
SERVICES: Memorial services will be held Tuesday, July 2, at 10 a.m. in Kensington Congregational Church.
Memorial donations may be made to the Sanbornton Fire Department (note "scholarship fund" on checks), P.O. Box 112, Sanbornton, NH 03269, or to the Kensington Historical Society, 95 Amesbury Road, Kensington, NH 03833.