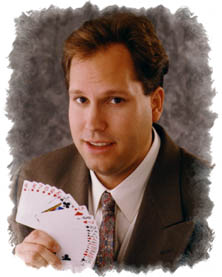 Abracadabra will be coming to Sanbornton Public Library on Wednesday, August 7th. As part of our 2013 Summer Reading Program, "Dig Into Reading," we will have the magician Andrew Pinard. He is the creator of Alejandro's Old Tyme Magik Showe, a wonderful one-man stand-up show with an emphasis on audience participation, visual magic and physical comedy. Pinard blends classical magic and comedy with a little help from his volunteer assistants (maybe you!)
Pinard has traveled extensively as an actor, director and scene and lighting designer. He is also a playwright and consultant for regional theater companies, and taught theater for five years at Pembroke Academy. Pinard has performed at a number of New England resorts and restaurants, including the Mount Washington Hotel and Newick's Seafood Restaurant, as well as state fairs in Sandwich, Caledonia and Stratham.
Date: Wednesday, August 7th
Time: 10:00am-11:00am
Location: Sanbornton Public Library
For more information, call (603)-286-8288 or email SPL@metrocast.net
________________________________________________________________________________________
Want to learn more about Andrew Pinard? Use the url below for his website!