October 2nd – Ram Dass Fierce Grace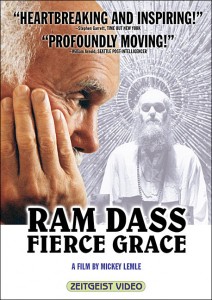 On Wednesday, October 2nd from 6:30 to  8:30 pm, we will be showing the next installment in our film series, which takes place on the first Wednesday of each month. This month's selection is Ram Dass Fierce Grace. From Amazon:
Harvard professors Richard Alpert and Timothy Leary made countercultural history in 1963 when they were fired from that institution for conducting controversial psychedelic drug research. In the purple haze aftermath, Alpert journeyed to India and found his guru Maharaj ji, who renamed him Ram Dass ("Servant of God"). Best known for his 1971 bestseller BE HERE NOW, which was a spiritual touchstone of the era, Ram Dass became an inspiration to people across the globe. Filmmaker Mickey Lemle–who has known his subject for more than twenty-five years–intersperses vivid archival footage from hippiedom's glory days with intimate glimpses of Ram Dass today, as he continues to remake his life since being–in his words–"stroked" in 1997. Named by NEWSWEEK as one of the Top Five Non-Fiction Films of 2002, RAM DASS FIERCE GRACE is an engrossing, poignant meditation on spirituality, consciousness, healing and the unexpected grace of aging. 
Ram Dass also has strong New Hampshire connections and spent a great deal of time at his father's home in Franklin.
Come spend the evening with us watching this phenomenal film!