Freak Winds, New Hampshire 1938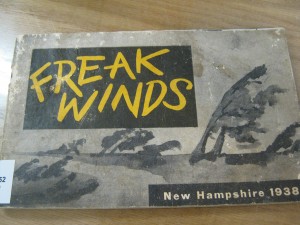 The wind storm that struck New Hampshire on September 21st, 1938 caused the greatest damage ever known to the state. Originating in the West Indies, it skipped Florida and at Cape Hatteras swept northward into a low-pressure area, hitting Long Island, rushing through the center of New England, and finally, with diminishing force, vanishing into neighboring Canada. At the time, the state was already suffering from flood conditions. Rivers and streams were still rising and had in some sections already attained heights greater than those during the memorable "Flood of 1936." Hurricane winds joined the already existing forces of flood and fire and left all manner of wreckage in their path.
The small booklet Freak Winds, published shortly after the storm in September 1938, contains over 125 original pictures showing the damage inflicted by the windstorm as well as views of the sections impacted by flood and fire. Come visit the library to marvel at more of these historic photos!