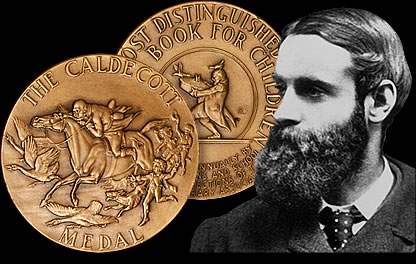 The winner of the 2014 Caldecott Medal has been announced! Named in honor of nineteenth-century English illustrator Randolph Caldecott, the award is presented annually by the Association for Library Service to Children (ALSC), a division of the American Library Association, to the artist of the most distinguished picture book for children. And, without further ado, the winner is…
Locomotive, written and illustrated by Brian Floca! The book was published by Atheneum Books for Young Readers, an imprint of Simon & Schuster Children's Publishing. The book is unique in that it is a nonfiction book winning an award that usually goes to fictional picture books. Its selection clearly shows that nonfiction materials need not be boring, colorless reads! From the ALSC website:
All aboard! Accompany a family on an unforgettable weeklong train trip from Omaha to Sacramento in 1869. Brian Floca's dramatic watercolor, ink, acrylic and gouache illustrations incorporate meticulously-researched portraits of the train, the travelers and the crew as they traverse the American landscape on the new transcontinental railroad.
"The committee was impressed with Floca's ability to creatively capture the immensity and inner workings of the early locomotive and combine it with a family's adventurous journey west," said Caldecott Medal Committee Chair Marion Hanes Rutsch.
The library already has a copy of Locomotive. It can be found in the Children's Room under J nonfiction, 385 FLO.  Come take a peek and admire the gorgeous illustrations!
The Caldecott Medal Committee also selected three books for the Caledcott Honor. From the ALSC website:
Journey, written and illustrated by Aaron Becker and published by Candlewick Press
Finding a magical red crayon, a bored and lonely girl draws a new door on her bedroom wall that leads her to a wondrous but perilous new world. Her drab, sepia-toned, humdrum reality gives way to sumptuous, lushly-hued watercolor and pen and ink landscapes.
Flora and the Flamingo, written and illustrated by Molly Idle and published by Chronicle Books LLC
The budding relationship between an awkward young girl and a graceful flamingo is revealed through carefully orchestrated flaps. The minimalist setting, limited color palette, use of white space and page turns create a timeless and joyful visual experience. The call-and-response of this balletic duet is cinematic and comedic.
Mr. Wuffles! written and illustrated by David Wiesner and published by Clarion Books, an imprint of Houghton Mifflin Harcourt Publishing Company
Mr. Wuffles finds a new toy that is actually a tiny spaceship in this nearly wordless science fiction tale of epic and miniature proportions. Crisp watercolor and India ink illustrations shine in an innovative graphic novel, a picture book hybrid featuring hidden worlds, alien languages and one peeved cat.
While we don't yet have the three Honor books, we can obtain them for you via inter-library loan. And, while you're waiting for them to arrive, check out Brian Floca's Locomotive!