Need something fun to do during vacation? On Wednesday, February 26th – during the February School Vacation week – from 1pm to 3pm, the library and the Sanbornton Recreation Department will sponsor Winterfest. Events will take place at the library as well as outside in the field behind Sanbornton Square.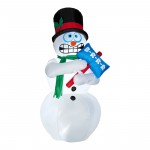 Outdoor activities will include grilling marshmallows for S'mores and a snowshoe obstacle course. Snowshoes will be generously provided by Sanbornton Central School, or you can bring your own! There will also be snowman building pending snow conditions, but so far it looks like they'll be plenty around!
If you're not a fan of the cold, stay warm inside the library and enjoy our indoor activities! We will have an Uno competition, cribbage, puzzles, a craft activity, chess and checkers.
If you'd like further information about this event, contact Sanbornton Recreation Department Coordinator Julie Lonergan at 286-2659 or the library at 286-8288. Activities are based on winter weather conditions; be sure to dress appropriately. Should there be a storm, the alternate date will be Friday, February 28th, also from 1pm to 3pm. We hope to see you there!