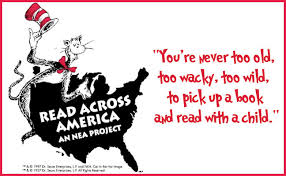 Sunday, March 2nd is Dr. Seuss's birthday, which has been adopted by the National Education Association as Read Across America Day. His birthday is a fitting choice for the event, as Dr. Seuss's books, with their playful rhymes, help jumpstart early childhood reading. This year marks the 17th anniversary of the celebration. Read Across America Day is celebrated by libraries and schools (often on the closest possible weekday) with fun, book-centered activities.
To celebrate, the library has been hosting Dr. Seuss-themed Story Times this week – a perfect chance to do something fun during February School Vacation Week. Our first, this past Tuesday at 1:00pm, was a rousing success. We will be holding another on Friday, February 28th at 10:30am, so there's still time to join in the fun!  In addition to reading Dr. Seuss stories, we are doing a fun craft activity based on One Fish, Two Fish, Red Fish, Blue Fish.
To see more photos, including all the new decorations in the Children's Room, visit our Facebook page and browse our new album!