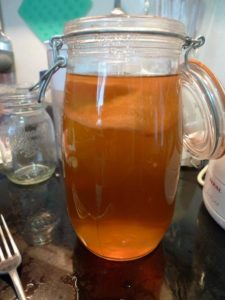 KOMBUCHA WORKSHOP at Sanbornton Public Library
Tuesday, August 22 at 6:30 p.m.
Discover the health benefits of this sparkling fermented tea and leave with your own SCOBY*
This kombucha class includes a talk about the history of kombucha, what exactly kombucha is, health benefits and nutrition, a sampling/ toast, and hands on instructions that include do's and don't s and a fun game. Everyone leaves with an instruction packet with fun recipes and troubleshooting tips, as well as a jar with a live culture to get started at home.
There is a $10 materials fee.
Class size is limited to 15 people so please sign up in the library or call 286-8288 to register.
Our presenter:  Lori Steere
Lori is a Certified
Integrative Health Coach with
Good For You Health