Readers, Unite!
The Sanbornton Public Library book group meets approximately every 6 weeks on Wednesdays. The books are chosen with the input of the group, and vary from light-hearted fiction reads to more literary fare and classics. Discussion is fun, and you will have a chance to meet your neighbors.
All are welcome! For those who prefer not to purchase the titles, copies of the books are available from the library. The library can also provide audio and large-print formats.
For more information, please contact the library (603-286-8288 * splnhpc@gmail.com).
*      *      *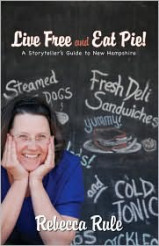 Live Free and Eat Pie – A Storyteller's Guide to New Hampshire by Rebecca Rule was the 2014 Community Read for the Scrooge and Marley Coop, of which Sanbornton Public Library is a part. Ms. Rule spoke at Interlakes Auditorium on Sunday, November 2, 2014. This quick, delightful read features humorous facts, stories and advice about the Granite State.