Children's Story Time  
Friday at 10 am
Stories for the young learners. Hands-on crafts, read-aloud time, check out books and materials to take home! Younger children welcome to tag along!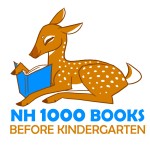 1000 Books Before Kindergarten 
Sanbornton Public Library in conjunction with the Children's Librarians of New Hampshire join in a national program to promote 1000 Books before Kindergarten. The initiative was started in Nevada and has spread nationally to encourage families to read to their children everyday. The 1000 Book Foundation says that  "if you read just 1 book a night, you will have read about 365 books in a year. That is 730 books in two years and 1,095 books in three years. If you consider that most children start kindergarten at around 5 years of age, you have more time than you think (so get started)."

Summer Reading Program
summer reading Tweens and Teens flyer 2017
Our 2017 Summer Reading Program is
Build a Better World! Reading over the summer lets children explore new ideas and use new skills. Visit the  library for your reading activity sheets, stickers, bookmarks and more. Children who read (or for pre-readers listen to) and do activities on the sheet may pick from the prize box. Join us for weekly activities every Wednesday at 10am, Story Time for birth through 6 on Fridays at 10:30am and more!
Stop by the library field to check out our story walk. Take a walk while reading the story, If I Built a Car by Chris Van Dusen. Join us on Saturday, 7/8 at 10:30 for a guided tour of the walk. Also join us for Stories and S'mores on Thursday, 8/3 at 6:30pm for all ages
Weekly Special Events on Wednesdays at 10am for children ages 4-12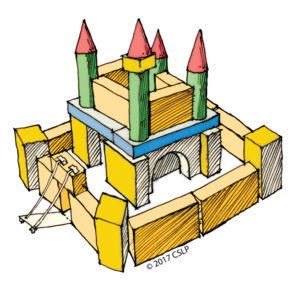 June 28th YOYO GUY
July 5th Meet the Tool Kit: learn how to use real tools
July 12th Build a Greener World: what can we do to make the world more beautiful?
July 19th Be a "Rosie Revere" Engineer: design and build just like real engineers
July 26th Fair Tale Builders: I'll huff and I'll puff and I'll…
August 2nd  Explore the night sky through an inflatable planetarium: event to be held at the Old Town Hall
Special Tween/Teen "figure it out (FIO) club" for ages 9-16 every Thursday in July, please sign up for programs in advance.
July 6th @ 6:30pm Take Aparts: Have you ever deconstructed before? Learn how things work from the inside-out.
July 13th @ 6:30pm Junkyard Wars: STEAM friendly problem solving competition
July 20th from 5:30-7:30 Read-a-thon / Eat-a-thon: Eat pizza and read with your friends. Sign-up in advance.
July 27th @ 6:30pm Build Code: Let's check out Scratch. Bring your own device if you can. Some laptops are available as well.
 Previous years Summer Reading Programs included:
Teens and tweens learned about coding with the programs Scratch.
School-aged kids designed strong bridges with only popsicle sticks and binder clips.
Kids 8-15 read and ate with peers at our Read-a-thon/Eat-a-thon.
The FIO (figure it out) club kids designed and built the slowest marble run with "trash" at the junk yard wars.
Kids of all ages discussed and painted
about how to make the world more beautiful.
Kids explored using woodworking tools.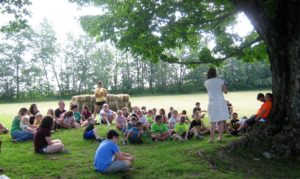 We enjoyed stories and s'mores.
We read stories outside!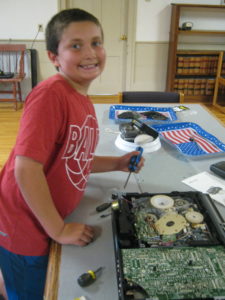 The FIO club took things apart and tried to figure out how they worked.