The library currently has the following passes available:
Squam Lakes Natural Science Center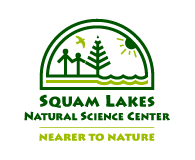 Thanks to the donation from Sanbornton Conservation Commission, the library is again offering passes to Squam Lakes Natural Science Center. These are valid for TWO $3 trail admissions, plus up to four additional discounted trail admissions for $10 each. General Public trail admission fees are $19 for adults, $14 for youth, and $16 for seniors. The Center is open daily from May 1st through November 1st, from 9:30 a.m. to 4:30 p.m., with the last admission at 3:30 p.m.
You will enjoy the 3/4 mile live animal trail walk in the woods with up close views of black bears, mountain lions, hawks and owls, bobcats, river otters, foxes, and more, all in natural woodland enclosures. Trailside buildings feature hands-on puzzles and interactive games that teach natural history. There are also miles of other trails to explore – the Ecotone mammal exhibit, the Forest, and the Mt. Fayal Trail, which features beautiful views of Squam Lake. During July and August, live animal programs are included in the trail experience each day.
Visit www.nhnature.org for Squam Lakes Natural Science Center.
Castle in the Clouds
Visit the Castle and you'll tour the 1914 Arts and Crafts style mansion, take in the spectacular views of Lake Winnipesaukee and the Ossipee Mountains, stroll through the magnificent gardens, walk 28 miles of trails and more.  Located on Route 171, 455 Old Mountain Road, Moultonborough, NH.
This library membership allows us to issue one pass per day. It includes free admission for two adults and two youth (not included special events). The Castle is open daily, 10 a.m. to 5:30 p.m. through October 22, 2017.
Visit www.CASTLEINTHECLOUDS.ORG for more details.
Wright Museum of World War ll
(not available as of June 15, 2017)
Daily passes are available for each day of the week that admit two adults and 4 children under 18. Located in Wolfeboro, NH, the Wright Museum's mission is to preserve and share the stories of America's Greatest Generation for the benefit of generations to come.
Museum Hours: May 1 through October 31; Mon-Sat 10 a.m. to 4 p.m. and Sunday 12 p.m. to 4 p.m.
Visit www.wrightmuseum.org for more information.
*   *   *
All passes are available at the circulation desk of the library. Because some passes are time sensitive, we suggest you call ahead at 286-8288  to reserve desired dates with the library.